Arts, Crafts & Unique Antiques
10:00 AM
Springwater Cloggers
12:00 PM
Log Sawing & Pancake Contests
Don't miss our new vendor locations
Street Vendors
From bird feeders to rock jewelry, hand-forged ironwork to handmade bath products, mouth-watering edible treats to handmade clothing, you are sure to find something to catch your eye or whet your appetite.
Oh! and did we mention syrup? Many of our local producers, who have been coming for years, along with some new ones, will be bringing a variety of maple products for your enjoyment.

Embrace your artistic side!
Arts and Crafts
Every year in the arena we present an array of unique arts & crafts along with an amazing collection of antiques that will please everyone.
As you stroll through, you will impressed with the eclectic collection of so many interesting items.  Something for Everyone!
The event takes place on the main stage
Annual Log Sawing Competition
THE FASTEST SLICE
One of the many must-see events at the Elmvale Maple Syrup Festival is the log-sawing contest, which takes place on our main stage shortly after noon. Local dignitaries and politicians from nearby municipalities pair up to participate in this exciting competition.
The pine log, donated by Robert Ritchie Forest Products, is set up on stage and our referee, Doug Kirton, hands over his 52" crosscut saw, which has been oiled and sharpened to produce the best result possible. The stop watch is set to go, and is in the capable hands of our official timer.
After a brief practice run, the order to 'go' is given and the contestants work in unison to remove a section of the log in the shortest time. This task tests even the hardiest of competitors and is a completely different experience from their daily routine. It is much harder than it looks, and anticipating your partner's moves is definitely an asset.
We have two divisions; Open and Ladies'. Our 2019 winners were: then Deputy Mayor Jennifer Coughlin and Councillor Anita Moore, in the ladies' division, representing Springwater Township and in the open division it was then Deputy Mayor Scott Jermey and Dan Reid, from Oro-Medonte who took the prize.
The winning teams are rewarded with their names on our trophy, bottles of delicious maple syrup and bragging rights until the next year.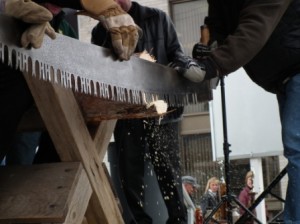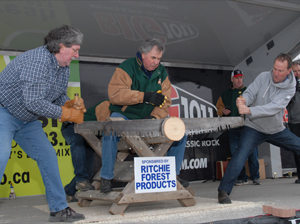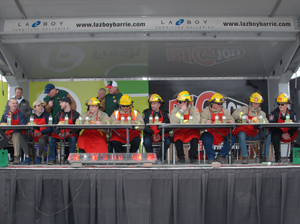 Sponsoring this year's contest once again:
Will Marshall Insurance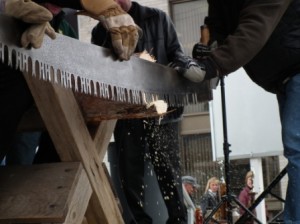 Firefighters & Community Challenge
Pancake Eating Contest
Open to the public, and follows the log-sawing competition on the main stage. Come out and support the competitors, but don't get too close. This can get messy!
2023 Pancake Eating Contest
-The Annual Firefighters Challenge & Community Group Challenge
-This will be our 22nd annual EMSF worldwide pancake eating contest.
-There are 2 divisions in this world renowned contest.
-Six local firefighters will compete in their division, with local firefighter: James Doan, being heavy favourite to win this division once again and again and again. He was our winner in 2019.
-This is our second year with a separate division featuring 6 community groups participating. Last year, Brian Murphy, representing Elmvale Minor Ball, was our Group Challenge winner. We are hoping to see him back again this year.
Rules are set. Participants need to consume five large-sized pancakes, covered with maple syrup supplied by Lalonde's Maple Syrup, in the fastest time possible. Everything must stay down! Due to the choking danger it was decided, by majority vote, that water will be provided.
This event would not be successful without the support of the Elmvale Firefighters and our sponsors. Watch for this main attraction on the big stage following the Log Sawing Contest.
Welcome to Elmvale  .  Sweet by Nature
Come discover all the treasures that the Village of Elmvale has to offer…..
From the unique shops, restaurants and professional services – to our local artisans.
While attending the festival, be certain to take a walk through our pretty little town.
Lalonde's Sugarbush Tour.
Be sure to catch the free bus and take a trip to our local sugar bush to see first hand how maple syrup is made.